Welcome to PokeDS!
So a bit of time has passed since the introduction of Pokemon Black and White 2.
PokeBeach
recently posted on their website that the introduction of the Tornadus' Sacred Beast form (depicted at right)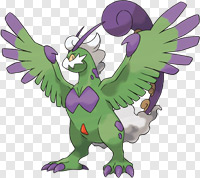 Courtesy of PokeBeach
Landorus and Thundurus also have their Sacred Beast forms, which are attainable through unknown means.
Secondly, Cheren will replace Lenora as the Normal-type Gym Leader. Meanwhile, Bianca will replace the traditional role of a Pokemon Professor as the giver of your first Pokemon. She states that she is giving you your Pokemon "on behalf of Professor Juniper" suggesting that she has sought a career in Pokemon professorship instead of one as a trainer. N is mentioned briefly in the screenshots, but his location is unknown.
Finally, a new feature to the game has been added; PokeWood. Though references to movies were made in the previous installments, PokeWood will provide players with a system that allows them to create their own movies which are graded on a point scale. The better the movie, the higher the points. Players can choose their milieu, scripts and battle opponents. The screenshot to the left depicts a Typhlosion battling a Mechanized Tyranitar...how interesting?
Posted by Tiff (#1) on 15 May 2012, 4:43 PM EDT
Alright guys, so it's been over a month since I changed us over to the new PokeDS, and I hope you guys have enjoyed it!
I haven't posted any updates for a while now, but I've definitely been working on the sites, and I've made lots of major changes to the programming behind the site as well as adding small features such as the body of user profiles.
Overall, it's been a while since I've done any very noticeable updates to the site, but in the coming days, I hope to get some major work done, such as finally finishing the other sections of the Pokedex (Ability pages, move pages, etc), and making some long overdue calculators!
In addition to that, I plan to make some changes to the site that will make it even more accessible and usable, but I'm still playing around with ideas in this department, so stay tuned!
And finally, I thought I should just officially say that
Xavier (#4)
has joined as an administrator of PokeDS, and he's been doing a great job of helping get stuff done around the site such as making content and coding our in-progress Gallery feature. He's awesome, so give him some love for the great work he does!
Posted by Tiff (#1) on 21 April 2012, 2:50 PM EDT
You may have noticed that the front page of PokeDS used to load pretty slowly! I thought I was imagining things but after testing, I realized that we were having performance issues somewhere.
As it turns out, there was one part of the code that was majorly slowing things down on the site. After tracking the page load times on the site and troubleshooting various features, I found the problem, and I've solved it. So now, PokeDS' main page takes less than a second to load, like it should, instead of taking 2-4 seconds average.
Otherwise, I've also made some minor changes around the site such as making the navigation bar anchor to the top of the page when you scroll down. This should make it easier for you guys to browse the site because you won't have to scroll back to the top to go to different sections all the time!
And finally, I've temporarily made the search bar lead to Google Custom Search. This is a temporary solution for searching, but I'm sure you guys will agree it's much better than having the search bar lead to a dead end page.
So that said, cheers and best wishes to you all! I look forward to seeing you around PokeDS.
Edit:
You can now comment on news posts.
Posted by Tiff (#1) on 8 April 2012, 8:05 PM EDT
Alright, maybe I got a bit impatient. But here we are!
We've got a pretty lively community going on here, so you should seriously consider joining in with the rest of us if you haven't already! New PokeDS is much easier to use than before and is designed to be able to store much more content much more conveniently than before with our new Channels system.
Unfortunately, due to massive changes in the structure of the database for the site,
you'll have to reregister for the new site
.
However, luckily, registration is really quick and simple and doesn't require email activation or anything of the sort!
And since I know there are some content sections, such as the Moveset Effectiveness Calculator, that I've yet to transfer over to the new site,
I've archived the old site here
, for all of you guys to visit.
Look forward to seeing you guys around PokeDS!
Shadow Files AKA Tiff